Short Biography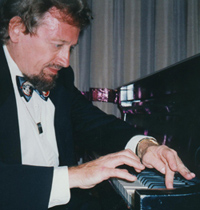 Adam Makowicz was born of Polish parents in Czechoslovakia, in 1940, and raised in Poland since the age of six. Educated in classical music initially by his mother, a pianist and a singer, then attended music schools in Rybnik, Katowice and Krakow until the age of sixteen, when he discovered JAZZ through the Willis Conover's "Music USA-Jazz Hour" broadcasts. The rhythm and freedom of improvisation in this music fascinated him so much that Jazz claimed his whole interest and devotion from that time on. His parents insisted that he become a classical pianist, his school did not allow him to play "that music", since jazz was then considered illegitimate, decadent music, so he left home and school to be able to play jazz. " After two years of homeless, hand-to-mouth existence, he found an "underground' jazz club in Krakow, where I played, practiced or thought about jazz 24 hours a day", he says.
Learning first by listening closely to the broadcasts and rare recordings of such greats like Art Tatum, Erroll Garner, Fats Waller, Earl "Fatha" Hines, Teddy Wilson, Bill Evans, Benny Goodman, and many others, Makowicz developed his own inimitable style and technique. His hard work, passion and dedication eventually paid off as his performances and recordings, that he began making in the mid-sixties, brought him a great deal of popularity and critical acclaim.
By the time he was invited by John Hammond to New York, for a 10-week engagement and the recording of the solo album called "Adam" by CBS Columbia in 1977, the pianist had performed worldwide and had already made 26 albums, earning the votes of the "Jazz Forum" magazine readers as Europe's # 1 Jazz Pianist for six years in row. In 1978 he received a longer contract, which allowed him to fulfill his dream of returning to New York, the "Capital of Jazz". Since then he has recorded over twenty new albums/compact discs, which received wide acclaim, especially "Naughty Baby" by RCA/Novus (his tribute to George Gershwin), his four recordings by the Concord Jazz, and two CDs by VWC Records.
He appeared, solo or with jazz groups, at major jazz clubs, concert halls and international jazz festivals in the U.S. , Canada, Europe, and, more recently, in Peru. Makowicz shared the stage with such greats as Earl "Fatha" Hines, Sara Vaughan, Teddy Wilson, Benny Goodman, Marian McPartland, George Shearing, Benny Carter, Phil Woods, Herbie Hancock, Billy Taylor, Freddie Hubbart, and many others.
He was also invited to play as a guest soloist with many symphony orchestras, including the US National Symphony, the Atlanta Symphony, the Minnesota Orchestra, the Metropole Orchestra from Amsterdam, the London Royal Philharmonic Orchestra, and the National Philharmonic of Poland, to name the few.
His performances and recordings have generated countless rave reviews and the enthusiasm of audiences all over the world.
When Makowicz publicly denounced the imposition of martial law in Poland in 1981, he and his wife, Irena, ware barred from traveling to Poland or any other East-European country for eight years.
In 1989, following the political changes in Poland, Makowicz received a Polish passport and since then has been performing there every year, solo and with various orchestras, realizing his project of promoting the music of American composers; he also plays there other composers' works in his arrangements, and his own compositions.
Adam Makowicz considers himself primarily a pianist, but he is also a remarkable arranger and composer of many works.
"Adam Makowicz is a magician of the keyboard."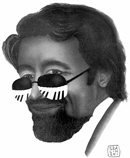 By any standard, Makowicz is brilliant. And while the legacy of Tatum resonates deeply, so too does Makowicz .... Makowicz is magical! Chuck Berg, JazzTimes
Makowicz plays with beauty, compassion, and vision. He is one of the most phenomenally spectacular pianists in jazz. Hugh Wyatt, New York Daily News
Adam plays with virtuosity, spontaneity and style that surely would have delighted Gershwin. Michael Feinstein
Makowicz is a jazz master, and like great practitioners of any style, he is all music, to the point where questions of influence, mechanics, and sub-genre (swing, bop, chamber, neoclassical) have become irrelevancies. Twin Cities Reader
Adam Makowicz has been praised by Benny Goodman, compared with Art Tatum, Erroll Garner and Teddy Wilson, honored by jazz publications and toasted all over Europe as a genius. Mr. Makowicz's fiery style, firm chording, and rapid, Tatumesque right hand phrasing make him more than deserving of the accolades he has received. -- Jim Fuselli, Wall Street Journal
"... his playing ... can only be called astonishing."
Adam Makowicz, a remarkable virtuoso with technique on the level of an Art Tatum, performed some miraculous unaccompanied solos... Although Tatum is an influence, Makowicz has a harmonically advanced style with a personality and strong wit of his own; his renditions of standards were often breathtaking. -- Scott Yanow, Music Connection
Adam Makowicz is a magician of the keyboard. -- W. Royal Stokes, Washington Post
Adam will make the history books. -- Earl "Fatha" Hines
Here is the most astonishingly gifted improviser to come along in a couple of decades. Adam is once in a lifetime. -- Detroit News
... His albums and his playing in general can only be called astonishing. Gifted with a fertile imagination and an unlimited technique, he is not only an extraordinary pianist, he is also an unusual and fascinating composer. -- Gene Lees, Jazzletter
... a pianist of awesome technical accomplishment, he played with delicacy and great affection. There seems no idea, no matter how complex, he cannot carry off with flair. Striding magnificently, swinging mightily, full of warmth and presence. -- Richard Sudhalter, New York Post
Jackpot! Adam performed an utterly entrancing program, mostly standards, that purvey unerringly fine taste, crafty phrasing and prodigious technique. First-time listeners to Makowicz who fancy themselves would-be pianists are forewarned: so majestic is his technique that you may switch to another instrument. To his credit, Adam's wizardry on the keys is refined in, indeed balanced, by the emotions he seeks to convey. And, boy, does he swing! The legacies of Art Tatum and Erroll Garner converge in the 10 fingers as he sweeps across the keys one moment, then drops in a few well-chosen trills. Even at the fastest tempos, his approach is unhurried and seldom florid, full of springy jubilation, so much so that his right and left hands seem to operate autonomously. -- Gene Kalbacher, Jazzline
A rare artist who grips and holds attention, Makowicz handles the classics of the American songbook with an aplomb equal to the way he deals with the devastatingly complex structures of his own compositions. A gifted improviser with splendid technical prowess, the pianist can also offer warmth and affection in melodic lines, the balance of fine taste, pungent swing and a jubilant approach inevitably generating audience cheer. -- Geoff Chapman, Toronto Star